Thursday, 25 May 2017

This is my stop during the book blitz for Saying I Do by Tracey Alvarez. This book blitz is organized by Lola's Blog Tours. The book blitz runs from 19 till 25 May. See the tour schedule
here
.
Saying I Do (Stewart Island #8)
by Tracey Alvarez
Genre:
Contemporary Romance
Age category:
Adult
Release Date:
19 May, 2017
Blurb:
Marriage and happily-ever-after are for suckers…

Joe Whelan was fooled once on the way to the altar, and the Irish doctor isn't about to be an eejit over a woman again. Especially not one who witnessed his broken-hearted humiliation years ago. He won't be swayed by the sparks that fly whenever his eyes meet MacKenna's or distracted by her sweet kisses. The only thing Joe cares about is preventing his sister from making the biggest marital mistake of her life.

MacKenna Jones loves a good wedding—so long as she's sewing the bride's gown, not walking down the aisle herself. Falling for Joe Whelan's sexy bedside manner wasn't on the cards, neither was a seven-day road trip with him to Las Vegas, the Marriage Capital of the World. When the stakes are so high, will these two gun-shy cynics ever say I Do?
My review :-
Beautiful, poignant and touching. I loved it and would recommend it to everyone. The book was awesome, intriguing and gripping. The characters were well developed, strong and lovely with a well realised plot.
You can find Saying I Do on
Goodreads
Listen to the soundtrack for Saying on I Do on
Youtube
You can buy Saying I Do here:
-
Amazon US
-
Amazon UK
-
Amazon CA
-
Amazon Australia
-
Barnes & Noble
-
Kobo
-
iBooks
-
Smashwords
About the Author:
Tracey Alvarez is a USA Today Bestselling Author living in the Coolest Little Capital in the World (a.k.a Wellington, New Zealand). Married to a wonderfully supportive IT guy, she has two teens who would love to be surgically linked to their electronic devices.
Fuelled by copious amounts of coffee, she's the author of contemporary romantic fiction set predominantly in New Zealand. Small-towns, close communities, and families are a big part of the heart-warming stories she writes. Oh, and hot, down-to-earth heroes—Kiwi men, in other words.
When she's not writing, thinking about writing, or procrastinating about writing, Tracey can be found with her nose in her e-reader, nibbling on smuggled chocolate bars, or bribing her kids to take over the housework.
Follow Tracey on Twitter as @TraceyAlvrezNZ or Facebook as http://www.facebook.com/TraceyAlvarezAuthor
Her website is http://www.traceyalvarez.com and don't forget to sign up to her newsletter here: http://bit.ly/JR3Asu
You can find and contact Tracey here:
-
Website
-
Facebook
-
Twitter
-
Goodreads
-
Pinterest
-
Google+
-
Amazon
-
Instagram
-
Newsletter
Giveaway
There is a tour wide giveaway for the book blitz of Saying I Do. This giveaway ends May 25th.
One winner will win a prize pack (over $65 value) which includes:
~ Playing For Fun signed paperback (Playing For Fun is Book 6 in the series, and features Mac's cousin Holly)
~ Fun NZ theme tote bag
~ New Zealand Wild Ferns Pure New Zealand Manuka Honey Rejuvenating Face Pack
~ New Zealand Wild Ferns Pure New Zealand Manuka Honey Conditioning Lip Balm
~ Alpine Silk Manuka Honey Hand Cream
~ Alpine Silk Manuka Honey with Propolis Triple Milled Luxury Soap
~ Handcrafted in New Zealand woven Hessian Kete with feathers
~ 4 New Zealand Paua Shell Wine Glass Charms
~ Author magnet (not pictured)
~ Author bookmark (not pictured)
Giveaway rules
* Prizes are not exchangeable for cash or anything else.
* All due care will be made in ensuring the prize arrives at the winner's address, but the author is unable to refund prize value in any way should it not arrive due to postal disaster.
* Entries close on May 25th and winner will receive a direct e-mail from me shortly after – so please ensure Tracy Alvarez's e-mail address is added to your safe/contacts list. If the author doesn't receive a reply from the winner in 48 hours, a new winner will be drawn.
For a chance to win, enter the rafflecopter below.
To qualify for the bonus 5 entries, you'll need to purchase Saying I Do and answer this question in the space provided in the rafflecopter. The question is: What is the last 4-word sentence at the end of Chapter 13?
a Rafflecopter giveaway
About the Books
City of Ghosts
On the day the villagers were forced to flee Hensu, not everyone got out alive.
Jackson Stone is touring the abandoned Chinese city when he slips away from the group to spend the night, determined to publish an account of his ghostly experiences there.
Then he meets Yuèhai, a strange, soft-spoken woman who can tell him the city's secrets—secrets the Chinese government would kill to keep hidden.
As Jackson uncovers the truth about Yuèhai and the ghost city, he's drawn into a web of conspiracy, betrayal, and murder. He must risk everything to save himself and bring honor back to Yuèhai and her family.
My review :- Captivating, intriguing and mesmerising. I loved it and would recommend it to everyone. The book was a one sit read for me. The characters were well developed and strong with a unique and amazing plot.
The Girl Who Talks to Ghosts
Would you risk everything to save a stranger?
Off the coast of Venice lurks Poveglia, the world's most haunted isle, steeped in centuries of innocent blood. A deranged doctor who took great joy in torturing his patients in life continues to rule his abandoned asylum after death.
Few go to Poveglia willingly, but medium Kate Carlsson has no choice. It's her job.
While struggling to retrieve a young girl's soul, Kate uncovers some shocking truths about the evil on the island that challenges her own convictions and morals—and even her life.
Is saving Lily worth making a deal with the infamous Doctor of Death, or is the price too high to pay?
Author Bio
J.H. Moncrieff's work has been described as early Gillian Flynn with a little Ray Bradbury and Stephen King thrown in for good measure.
She won Harlequin's search for the next Gillian Flynn in 2016.
Her first published novella, The Bear Who Wouldn't Leave, was featured in Samhain'sChildhood Fears collection and stayed on its horror bestsellers list for over a year.
When not writing, she loves exploring the world's most haunted places, advocating for animal rights, and summoning her inner ninja in muay thai class.
Social Media Just for Writers
by Frances Caballo
~~~~~~~~~~~~~
GENRE: Nonfiction
~~~~~~~~~~~~~
BLURB:
You wrote your book and sold copies to everyone you know. But you have goals that extend beyond a few dozen copies sold.
How do you achieve your dream of selling books around the world? With social media, you can build your platform and reach readers in locales you never imaged possible before.
In this book, you'll learn how to:
• Create a Facebook fan page and actively engage with your readers.
• Optimize your LinkedIn profile.
• Tackle Instagram, Tumblr, and Snapchat.
• Build and optimize Pinterest pinboards for SEO to maximize exposure of your books, blog, and other landing pages.
• Improve your blogging.
• Excel on Twitter.
• Create images for your blog and social media posts.
The second edition of Social Media Just for Writers is both a primer for authors new to social media and an advanced study of platforms that weren't widely known four years ago. Whether you write romance, historical fiction, young adult, or steam punk novels, you'll find help in reaching your online audience of new and dedicated readers.
My review :-
Highly informative and insightful for those who do not know the ins and outs of social media. This book is a perfect guide for writers who have just started withits detailed information and visual guide.
~~~~~~~~~~~~~
EXCERPT
Chapter 1
Not Sure How to Approach Social Media? CARE about Your Readers
Among all the rules you'll find online – the 80/20 rule (only 20% of your posts should be about your books or blog posts while 80% of your posts should contain content from other sources), the admonitions against using social media as a bullhorn, the warnings about over automating – there's also an unspoken tenet.
This tenet isn't a rule that comes up on the blogosphere. Instead, it's more of a system of approach and an acronym that I created while preparing for the San Francisco Writers Conference.
If you follow the approach I'm about to explain, you can be sure that the time you spend on social media will generate the type of engagement with readers that you want to have.
Once you start to use social media, be prepared to CARE about people. I know that it seems evident to care about people online but give me a moment to break down the acronym.
• C - Communicate with your readers.
• A - Answer your readers' questions.
• R - Relate to your readers.
• E - Educate with stellar content.
And most of all simply care about people.
Joanna Penn devised the term social karma. As she explains it, if you want book sales, buy books. If you want book reviews, write reviews for all of the books you read. If you want people to like your Facebook page or follow you on Twitter, like your readers' and friends' Facebook pages and follow them on Twitter.
Reciprocate actions. And just as you might offer money to a homeless stranger, smile at a person walking down the street, or invite a new family from your church over for tea or dinner, take the types of actions online that will help you to get to know the people who follow you and want to connect with you.
In other words, be kind online. Be inquisitive. Be responsive. Be open to meeting people and revealing parts of your life.
Let's look more closely at CARE.
~~~~~~~~~~~~~
AUTHOR Bio and Links:
Frances Caballo is an author and social media strategist and manager for writers. She's a regular speaker at the San Francisco Writers Conference. In addition, she's a contributing writer at TheBookDesigner.com, and blogger and Social Media Expert
for BookWorks. She's written several social media books including The Author's Guide to Goodreads and Social Media in 30 Minutes a Day. Her focus is on helping authors surmount the barriers that keep them from flourishing online, building their platform, finding new readers, and selling more books. Her clients include authors of every genre and writers' conferences.
http://www.socialmediajustforwriters.com/
https://www.facebook.com/FrancesCaballoAuthor/
https://www.pinterest.com/fcaballo/social-media-just-for-writers/
https://twitter.com/CaballoFrances
~~~~~~~~~~~~~
GIVEAWAY INFORMATION and RAFFLECOPTER CODE
Frances Caballo will be awarding a $50 Amazon/BN GC to a randomly drawn winner via rafflecopter during the tour.
Rafflecopter Code:
a Rafflecopter giveaway
Wednesday, 24 May 2017
Their story would make one heck of a country song.
THE NANNY ARRANGEMENT
Rachel Harris
Soft-spoken and shy Hannah Fisher is determined to make the man she's loved her entire life finally see her as a woman. With the help of a makeover, a new mission—Operation Find My Happy—and the convenient forced proximity of a tour bus, she vows to win her best friend Deacon's heart.
Former bad boy and current fiddle player Deacon Latrell has the world at his fingertips: a new gig with a famous band, plus his best friend on tour as his son's nanny. Life couldn't get much sweeter. Now if only he could stop imagining kissing the daylights out of his childhood BFF…
With one friend set on pushing the boundaries and the other afraid to rock the boat, one thing's for certain—their story would make one heck of a country song.
My review :-
Hilarious, entertainingand sweet. I loved it and would recommend it to everyone. The book was awesome. a definite 4 stars read from one of my favourite author. The characters were lovely, amazing and intriguing with a captivating plot.
New York Times bestselling author Rachel Harris writes humorous love stories about sassy girls-next-door and the hot guys that make them swoon. Vibrant settings, witty banter, and strong relationships are a staple in each of her books…and kissing. Lots of kissing.

An admitted bookaholic and homeschool mom, she gets through each day by laughing at herself, hugging her kids, and watching way too much Food Network with her husband. She writes young adult, new adult, and adult romances, and LOVES talking with readers!
...
Marilyn Benjamin Wassmann
Date of Publication: November 1,
2016
Cover Artist: Marilyn Benjamin
Wassmann
Pen Scratching Poets has been
described as a delightful book in which the author shares her family's collection
of creative poems.
The poems compilation and art
work are by Marilyn B. Wassmann with contributions by members of the Benjamin
family and their descendants, with the technical assistance of Paul A.
Wassmann.
The book is divided into two
sections. The first section, Pen Scratching consists of the poems by Ethel T.
Benjamin and her descendants and the second section is Marilyn's poems.
Marilyn Benjamin Wassmann was
born in a leap year.
She earned four degrees: two in
Art History, one in Library Science and one in Studio Art.
In 2011, she retired from her
work as an art cataloger at the Library of Congress.
Marilyn and her husband, Paul,
authored the children's book, What the Wind Blew In. They live in Hyattsville,
Maryland.
a Rafflecopter giveaway
Running Wild Anthology of Stories: Volume 1
By Various Authors: Sarah Smith Ducksworth, Elaine Crauder, Luanne Smith, Keith R. Fentonmiller, Lisa Montagne, Ann Stolinsky, A.J. O'Connell, Aimee LaBrie, Kristan Campbell, Jack Hillman, Bill Scruggs, Joshua Hedges and Gary Zenker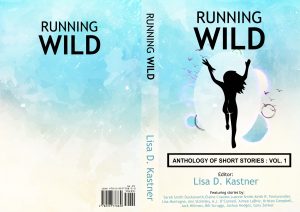 ~~~~~~~~~~~~~
GENRE: Fiction, Non-Fiction, Poetry (narrative)
~~~~~~~~~~~~~
BLURB:
This gripping collection of stories - fiction, nonfiction, and narrative poem - will make your imagination run wild! Featuring stories by Sarah Smith Ducksworth, Elaine Crauder, Luanne Smith, Keith R. Fentonmiller, Lisa Montagne, Ann Stolinsky, A.J. O'Connell, Aimee LaBrie, Kristan Campbell, Jack Hillman, Bill Scruggs, Joshua Hedges, Gary Zenker. You will travel alternative planets, run away away like teens in search of adventure, solve a murderous mystery, come to grips with your fears, and much more.
~~~~~~~~~~~~~

Excerpt :
"The jumpsuit was a thing of beauty. Made of dark-blue, shiny denim, it had an orange zipper that spanned from the crotch to the cleavage. It even sparkled ever so slightly in the sun, like it had been dipped in a vat of finely grained fairy dust. It sported capped sleeves, a wide collar, and bellbottoms. It was worthy of Cher or Liza Minnelli— certainly a back-up singer for Diana Ross. Nonetheless, it made me queasy. But, the jumpsuit also made me feel sexy and daring, which incited an occasional wave of sweaty armpits. In it, I was anxious to flaunt my new body and my new image. Seventh grade, here I come! There was no stopping me. I would no longer be the nerdy, fat kid. I would be a star." From Lisa Montagne's "The Jumpsuit"
My review :-
Highly entertaining,refreshing and fantastic. This book is a must read for every one with its beautiful and unique content, inspiring and insightful stories and amazing authors. A definite 4.3 stars
~~~~~~~~~~~~~
AUTHOR Bio and Links:
https://www.facebook.com/runningwildpress/
Elaine Crauder's fiction is also in Cooweescoowee, The Boston Literary Magazine, The Eastern Iowa Review , and Penumbra. Another story received the Westmoreland Short Story Award. Eleven of her short stories have been finalists or semi-finalists in contests, including finalists in the Tobias Wolff and Mark Twain House contests. "The Price Of A Pony," under the title"Christmas the Hard Way," was a semi-finalist for both Ruminate Magazine's short story prize and for the Salem College Center for Women Writers Reynolds Price short fiction award.
Richard D. "Ky" Owen is a lawyer with Goodwin & Goodwin, LLP, in Charleston, West Virginia. He earned a B.A. in journalism from Michigan State University in 1981 and a J.D. from Hamline University in 1984. Coming from a family of writers, he considers himself a "writer by birth." He is the author of
None Call Me Dad and he blogs about parenting and Michigan State sports on his website, www.nonecallmedad.com.
Keith R. Fentonmiller is a consumer protection attorney for the Federal Trade Commission in Washington, D.C. Before graduating from the University of Michigan Law School, he toured with a professional comedy troupe, writing and performing sketch comedy at colleges in the Mid-Atlantic States. His Pushcart-nominated short story was recently published in the Stonecoast Review. His debut novel, Kasper Mützenmacher's Cursed Hat, will be published March 20, 2017 by Curiosity Quills Press.
Based in Southern California, Dr. Lisa Montagne currently divides her time between writing poetry and prose, teaching writing to (mostly) willing college students, and overseeing educational technology projects and support at Fullerton College. She is also a Swing, Blues, and Argentine Tango dancer, host, DJ, and instructor. She likes to drink Champagne in as many places as she can, including Europe; to read poetry aloud to anybody who will listen; to cook for anybody who is willing to sit down long enough to enjoy her food; to dabble in drawing, painting, and photography; and to read anything plopped in front of her, ranging from D.H. Lawrence to Vogue magazine. She also likes to watch television and movies, and to imagine how much better she would have produced them herself. She lived in Las Vegas at one time, so she likes to tell people that she was a stripper there. She was really just a graduate student and high school teacher, but it's more fun to let people wonder. Although rumored to be a direct descendent of Oompa Loompas, Lisa is actually the offspring of a college professor and a circus dwarf. You can find some more of her writing at archive405.com and lisamontagne.com, and see evidence of her adventures @lisamlore on Instagram.
Ann Stolinsky is a Pennsylvania-based word and game expert. She is the founder and owner of Gontza Games, an independent board and card game company, and three of her games are currently in the marketplace:
"MINDFIELD, The Game of United States Military Trivia"; "Pass the Grogger!"; and "Christmas Cards."
Check out her website at www.gontzagames.com. She is also a partner in Gemini Wordsmiths, a full-service copyediting and content creating company. Visit www.geminiwordsmiths.com for more information and testimonials. Ann reviews books for Amazing Stories Magazine, an online sci-fi magazine which can be found at www.amazingstoriesmag.com, and is an Assistant Editor for Red Sun Magazine, www.redsunmagazine.com. Her most recent publishing credit is a poem in the Fall 2015 issue of Space and Time Magazine. She is a graduate of the Bram Stoker award-winning author Jonathan Maberry's short story writing class.
Lisa Montagne is a former correspondent for the Philadelphia Theatre Review and Features Editor for the Picolata Review, her short stories have appeared in magazines and journals such as StraightJackets Magazine and HESA Inprint. In 2007 Kastner was featured in the Fresh Lines @ Fresh Nine, a public reading hosted by Gross McCleaf Art Gallery. She founded Running Wild Writers and is the former president of Pennwriters, Inc. (www.pennwriters.com). She received her MFA in Creative Writing from Fairfield University, her MBA from Pennsylvania State and her BS from Drexel University (She's definitely full of it). Her novel THE KEEPER OF LOST THINGS was shortlisted in the fiction category of the William Faulkner Words and Wisdom Award and her memoir BREATHE was a semi-finalist in the nonfiction category of the same award. Born and raised in Camden, New Jersey she migrated to Philadelphia in her twenties and eventually transported to Los Angeles, California with her partner-in-crime and ever-talented husband. They nurture two felonious felines who anxiously engage in little sparks of anarchy.
Aimee LaBrie works as a communications director at Rutgers University. She earned her MFA in fiction from Penn State, and her MLA from University of Pennsylvania. Her short story collection, Wonderful Girl, was awarded the Katherine Anne Porter Prize in Fiction and published by the University of North Texas Press in 2007. Her second collection of stories, A Good Thing, placed as a finalist in the BOA Short Fiction Contest. Her short stories have been nominated for a Pushcart Prize and published in Pleiades, Minnesota Review, Iron Horse Literary Review, Permafrost, and other literary journals. In 2012, she won first place in Zoetrope's All-Story Fiction contest. You can read her blog at www.butcallmebetsy.blogspot.com.
Kristan Campbell is a short story writer born in Washington, D.C. but has only visited her grandmother there during some of the summers of her childhood. She's more familiar with Philadelphia, New York City, and Paris than her native city and aims to weave her experiences in those places into tales based on places and people that are out of the ordinary. She studied Journalism at Temple University (what seemed like a practical approach to writing at the time) and Comparative Literature at Hunter College (which seemed like a fun idea at the time) before accepting that she should have been an English major all along. Kristan completed her B.A. in English at Temple University in 2010 and an MFA in Fiction at Fairfield
University in 2016. She's currently attempting to eke out a living doing freelance editing with the help of her cat, Fishy, who manages her desktop printer with enthusiasm.
Bill Ed Scruggs spent his younger years meeting the Southern mountain countryside and exploring the people, taking time out as needed for work in various occupations. He lives (temporarily) in Connecticut and has one child, a psychiatrist. Presently he is reconstructing his memories and imaginings in a series of novels and short stories (Facebook page Foothills Fiction - Bill Ed Scruggs) Warrensburg is a fictional photo of a country village in the illumination of fireflies.
Joshua Hedges is a debut Science Fiction writer from Pittsburgh, PA. He graduated from The University of Pittsburgh with a degree in Computer Science. When he's not writing stories or code, he ventures outdoors with his wife and three-year-old son to hunt dragons in the forest.
Gary Zenker is a marketing professional whose days are filled with creating business and marketing plans, and writing ad copy and media content. By night, he applies his imagination to flash fiction tales that cross genre and focus on revealing various facets of human nature. He is the author of Meetup Leader, a book on running successful groups; is editor and publisher of 19 books in the rock & roll Archives series; and co-author of Says Seth, a humorous collection written with his then six-year-old son. His work has earned a dozen marketing awards and placed in four writers' contests, including a first place recognition from Oxford University Press. He founded and continues to lead two writers groups in southeastern PA, assisting others to develop their skills and achieve their writing goals. www.zenkermarketing.com
ONLY THE E-BOOK IS $0.99 DURING THE TOUR
Amazon eBook: https://www.amazon.com/Running-Wild-Anthology-Stories-1-ebook/dp/B06VTMDRNN
Amazon-print - https://www.amazon.com/Running-Wild-Anthology-Stories-1/dp/0997778822/ref=sr_1_1
~~~~~~~~~~~~~
GIVEAWAY INFORMATION and RAFFLECOPTER CODE
The authors will be awarding three individual prizes, a $10, a $25 and a $50 Amazon or B/N GC to three randomly drawn winners via rafflecopter during the tour.
Please use this rafflecopter code on your post:
a Rafflecopter giveaway
Tuesday, 23 May 2017
Honor does not bend. A will of iron does not break. Victory lies within the ashes.

The Vapros, the Taurlum, and the Celerius: three dynasties bound by an ancient promise, and given superhuman abilities to protect the city of Altryon from the dangerous world beyond its walls. The Vapros have the ability to teleport and turn their enemies to ash, the Celerius have super speed and the ability to heal from any wound, the Taurlum have skin like steel and godlike strength. Centuries of petty infighting have turned the families against each other, resulting in a secret war. A powerful emperor now rules over all, as the families have weakened by massive casualties.

Sixteen-year-old Neil Vapros desperately wants to become an assassin, to please his hyper critical father. After failing his first mission, Neil learns that a sinister new force has awakened. This mysterious new power threatens to shatter the established order and threaten the lives of everyone in Altryon - regardless of their family name or allegiance.
My Review:-
Amazing, intriguing, fantastic and action packed. I loved it and would recommend it to everyone. A definite 4. 3 stars . I can't wait to read or listen to more from the author. An original and captivating plot with a great prose.
About the Author: Kyle Prue
Kyle Prue is an award winning author, actor and comedian. Kyle wrote
The Sparks: Book 1 of the Feud Trilogy
when he was just 16 years old. Kyle has spent the past year on a national book tour visiting over 80 middle and high schools and meeting over 60,000 students. Kyle is now a freshman at the University of Michigan, studying acting and creative writing. He still visits schools and is a keynote speaker for conferences.
Kyle is the founder of Sparking Literacy, a non-profit dedicated to lowering the high school dropout rate by inspiring teens to read, write and follow their dreams.
The Sparks
has won numerous national awards including Best YA Fiction awards from: The Florida Authors and Publisher's Association, the Florida Book Festival, New England Book Festival, Midwest Book Festival, Southern California Book Festival, and the International London Book Festival. Kyle also won an International Moonbeam Award and IndieFab Award for Best Young Author.
About the Narrator: Jon Eric Preston
Jon Eric Preston received his Theatre degree from Florida State University after returning from the London program. He earned top honors narrating in the Dramatic Interpretation category on the Speech and Debate team, and performed professionally in Children's Theatre companies and did National Tours of A Christmas Carol, Twelfth Night, and Othello.
As a SAG BookPAL and a father reading to his two boys for more than 12 years, moving into the booth to record audiobooks was a natural and joy filled progression.
He is thrilled to be narrating and giving voice to the characters for Kyle Prue's Feud Trilogy.